There's no way it can possibly get more frenzied, right? Wrong. The pressure keeps mounting. The vast array of unusual moves by the Patriots continued and the Eagles scored a defensive knockout. So many got released and so many remain unsigned. NFL free agency stays hot.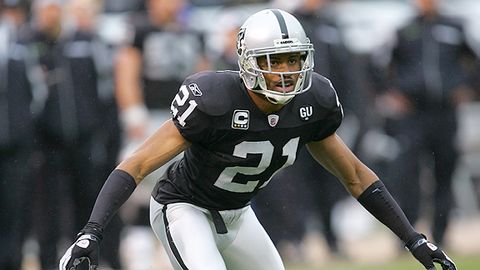 Pittsburgh Steelers Cut Flozelle Adams Who Is Second Tackle in Two Days
The revolving door at is open to Ben Roethlisberger now. A day after dismissing left tackle Max Starks, the Pittsburgh Steelers waved goodbye to right tackle Flozell Adams. This leaves several holes in an already suspect offensive line that threatens to shorten the career of a quarterback who won Pittsburgh two Super Bowls.
Atlanta Falcons Land Second Pass Rusher for Defense in Ray Edwards
John Abraham isn't alone anymore. The standout defensive end has a running mate in the Georgia Dome as the Atlanta Falcons used their recently opened cap space to reel in solid defensive end Ray Edwards from Minnesota. Edwards is a capable player who does well indoors, especially opposite a great teammate like Abraham. He proved it with the Vikings when he rushed from the other side of high-motor pass rusher Jarred Allen.
Tennessee Titans Add Veteran Shaun Smith to Defensive Line
The offense is coming together around new quarterback Matt Hasselbeck but the Tennessee Titans recognized their losses on defense. To try to fill the gaps they brought in veteran defensive tackle Shaun Smith from Kansas City, most widely known for his large frame and crotch-grabbing tendencies against opposing offensive linemen.
Denver Broncos Get Added Punch in Run Game with Willis McGahee
With the injuries piling up on running back Knowshon Moreno, the Denver Broncos sought help on the open market for when those problems persist. Their main target is former Baltimore Raven Willis McGahee who, interestingly, has battled injuries of his own throughout his career.
Philadelphia Eagles Claim Free Agency Title Belt by Signing Nnamdi Asomugha
Already restocking their secondary with cornerback Dominique Rogers-Cromartie, the Philadelphia Eagles vaulted to Super Bowl favorites when they snatched Nnamdi Asomugha away from the Cowboys and Jets. This gives Philadelphia the unquestioned best set of corners in football along with Asante Samuel and should make passing games miserable in the coming season.
New England Patriots Cut Ty Warren and Alge Crumpler
In a week of questionable NFL free agency choices by the New England Patriots, it just got stranger when they released five major veteran players including Super Bowl defensive end Ty Warren and four-time Pro Bowl tight end Alge Crumpler.
Miami Dolphins Lose Key Linebacker Channing Crowder to NFL Free Agency
Though he battled injuries the past two seasons, Channing Crowder was a valuable member of the Miami Dolphins defense, especially against the run. Apparently that wasn't good enough as the linebacker got waived after six seasons, leaving a gaping hole in the Dolphin defense they won't easily fill.
Chicago Bears Trash Hunt Eyes Another First Round Pick in Vernon Ghoulston
Head coach Lovie Smith and general manager Jerry Angelo seem to be finding former first round picks wherever they look. Hours after bringing in former first round wide receiver Roy Williams, the Chicago Bears are eyeing former Jets linebacker and first round pick Vernon Ghoulston. Both players are not yet 30 years old and come to a team filled with experienced coaches with a knack for developing underachieving players.
The biggest bomb yet just fell. Will others follow in NFL free agency. Stay tuned.