The first thing that comes to mind when thinking of lady sports stars Danica Patrick and Lindsey Vonn is good looks and great talent. Recently though they both gave a brief glance at the kind of people they are underneath all the glitz and glamour.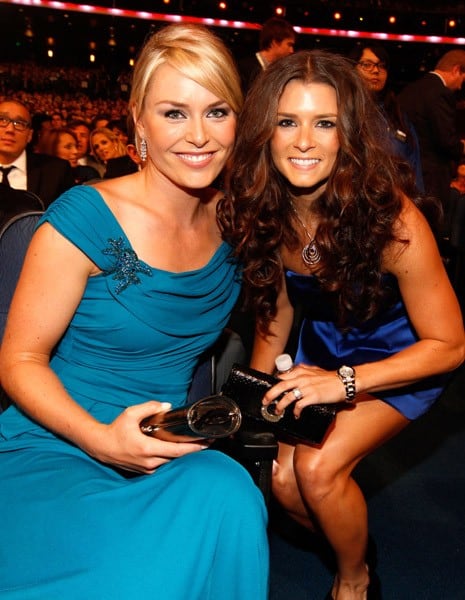 Patrick will honor fallen NASCAR champion Dan Wheldon at Nationwide race
It's very rare that someone takes time off in sports for anything other than lockouts or strikes. Former IndyCar racer Danica became that rarity after two-time Indianapolis 500 champion Dan Wheldon died in a blazing crash involving fifteen cars in Las Vegas. As a former racer in the IndyCar league herself, Patrick knew Wheldon well and sees the need to pay tribute to her old friend with a solemn gesture to kick off her new career as a full-time NASCAR driver.
Her first race back after a three-week layoff will take place at a Nationwide event in Texas. The GoDaddy.com stock car she drives will have an enlarged Lionheart Knight image emblazoned on it, exactly the same as Wheldon had on his cars. She will also wear a specially designed helmet honoring him as well and plans to sell it after her race at auction and donate the money to the Dan Wheldon Memorial Fund. Many opinions revolve in the world of competitive racing, but no one can ever say that Danica Patrick doesn't care about her fellow racers.
Olympics champ Vonn attends homecoming dance with high school sophomore
Parker McDonald attends the Vail Ski and Snowboard Academy in Colorado. With the school homecoming dance fast approaching he was having difficulty finding a date. As luck would have it, Olympics gold medalist Lindsey Vonn was at the school for a visit. She walked into the school lunchroom and on a spur of the moment gesture Parker asked her to the dance. To the surprise of everyone at Vail, she accepted, then announced it on her Facebook page.
Lindsey Vonn was in Colorado to train with the U.S. Ski team. She is also an accomplished swimsuit model and made the Maxim's Hot 100 list of most attractive women. Such a catch can only be considered legendary for Parker McDonald. Perhaps what he showed in asking will become a rallying cry for nervous boys everywhere to get past the what-ifs and understand there is no harm in asking. If Olympics champion Lindsey Vonn said yes, who knows what other young women might say.
People can question the athletic skills of Lindsey Vonn and Danica Patrick forever. With such gestures like these, no one should question the goodness of their hearts.