The Chicago Bears and their fans focus not on Jay Cutler, but the thumb of his throwing hand. While he prepares for surgery in Vail, Colorado, rumors still swirl over the murky backup quarterback situation as well as his girlfriend Kristin Cavallari.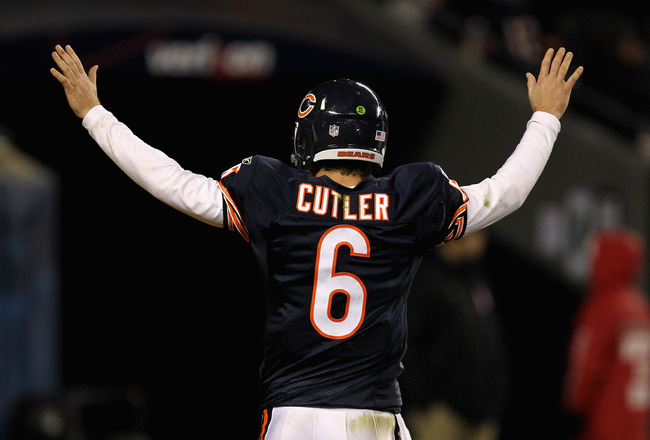 Cutler will have surgery to mend thumb while Chicago Bears prep Caleb Hanie
Current prognosis for Cutler stand mixed. Some believe he won't return for six to eight weeks while others think he has a shot at four if surgery goes well. He will travel to Vail, Colorado for the procedure and expects no problems in the hopes of returning before the regular season ends. Either way, the keys to the Chicago Bears offense belong to backup Caleb Hanie now. The fourth year player from Colorado State has the confidence of his teammates but very little from NFL analysts. Most remember him from his heroic but failing effort to bring Chicago back in the NFC Championship against Green Bay in January. While not at the talent level of Jay Cutler, Hanie showed great poise and leadership in such a difficult situation and could prove himself by helping get the Bears into the playoffs.
Cutler and Cavallari continue dodging rumors about their relationship
Kristin Cavallari has professed nothing but support for her boyfriend as he deals with the injury issue. That hasn't stopped tabloids from launching questions about whether the couple have gotten engaged for the second time. Cutler, being his typical self, had nothing to say on the subject. The last time the two got engaged they called the wedding off. Perhaps that explains why Cavallari had to forgo talking about the injured thumb and went straight to denying that she and Jay are not re-engaged.
Jay and Bears might have chance at major insurance with Kyle Orton
Any avid Chicago Bears fan remembers the blockbuster trade back in 2009 when the team traded two first round draft picks and quarterback Kyle Orton for Cutler. Two years later Orton was recently waived by the Denver Broncos and has expressed interest in returning to Chicago. It's almost the perfect situation. Orton is a veteran quarterback renowned for his smarts. Having him as insurance if Caleb Hanie flops will help the Bears rest easier and perhaps give Cutler more time to heal before the playoffs.
Kristin Cavallari might not have much to say about issues of the thumb, but with Caleb Hanie and Kyle Orton on the roster, Chicago Bears fans might not chew their nails at every sign of Jay Cutler news.