Just when outsiders think they have the strategy for the Chicago Bears figured out, another beat writer offers a completely different list of priorities. Is Jay Cutler the one person who can and should sort the mess out in March?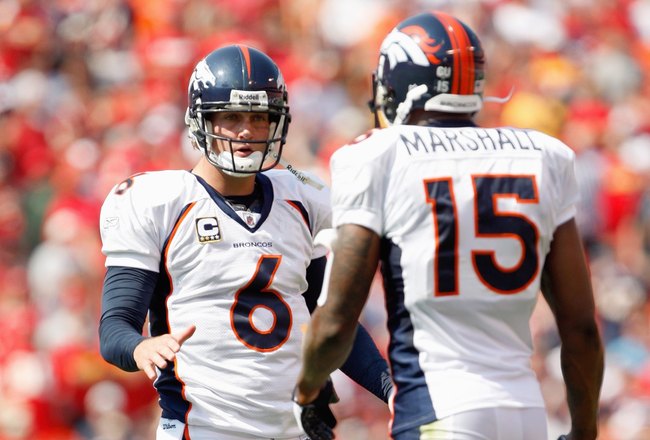 Vincent Jackson and Brandon Marshall head a list of possible Chicago targets
For three years Cutler has hinted he prefers throwing to big wide receivers that can fight for a football. Jerry Angelo didn't listen and he lost his job as general manager. Now Phil Emery comes in, knowing the city has little confidence in him and screaming for the Bears to spend some money and give Jay the weapons he needs. The 2012 free agent wide receiver class is among the deepest in recent memory. While Emery has offered no hint at whom the team will pursue on March 13th, he has said "playmakers" top the list. Two names that fit both Emery's and Cutler's criteria are San Diego Chargers receiver Vincent Jackson and Miami Dolphins receiver Brandon Marshall.
Jackson stands 6'5'' with enough speed to give any team a downfield threat. He also showcased his talents by scorching the Bears defense for 169 yards and a touchdown during the regular season. Marshall is 6'4'' and has experience catching Cutler passes back in Denver. What makes things murky is the contract situations. Marshall still has two years left on his deal with Miami, meaning the Bears would have to trade for him and probably surrender at least a first round draft pick. Jackson has repeatedly said he deserves to get paid like a top receiver in the NFL and would certainly demand top dollar, something Chicago rarely does. Angelo wouldn't have done that for Jay Cutler.
Cliff Avril also commands attention given needed help for Julius Peppers
Money isn't a major roadblock for the Chicago Bears, but needs on defense are. Angelo also struggled to put a consistent pass rusher next to Pro Bowl defensive end Julius Peppers. The Detroit Lions are having salary cap issues and may have to part ways with 25-year-old defensive end Cliff Avril. Next to Mario Williams, Avril is the best pass rusher in free agency and could be a worthy buy both for his skills and his youth. Taking him away from an NFC North division rival wouldn't hurt either. However, making that move would almost guarantee the Bears have no chance at getting a high-value receiver.
Kristin Cavallari and Matt Forte situations also may force Cutler's silence
A number of other factors also play against Jay not having much say in any possible signings. His fiancée Kristin Cavallari is pregnant and expects their first child this offseason. Cutler will have his hands full planning for that and the wedding to follow. Also, backfield mate Matt Forte has demanded a long-term contract from the Bears since last year and any signing Jay pushes on management would almost certainly affect any deal Forte can make. The running back was by far the best offensive player Chicago had next to Cutler and angering him would only make life tougher for an already struggling offense.
Jay Cutler showed he's smart enough to change and adapt. He might come across aloof and surly, but he knows what it takes to win. The Chicago Bears have an excellent chance for redemption in 2012 and it starts with free agency. Will they pay up for Vincent Jackson or trade for Brandon Marshall? Is Cliff Avril on their radar? How do Kristin Cavallari and Matt Forte play parts in Cutler's mindset? All answers will have to wait until March 13th, and Bears fans must settle for speculating.