They weren't lying when they said America loves underdogs. However, after their meteoric rises to fame, Jeremy Lin and Tim Tebow are losing the interest of fans. What reasons are to blame for their appeal going stale?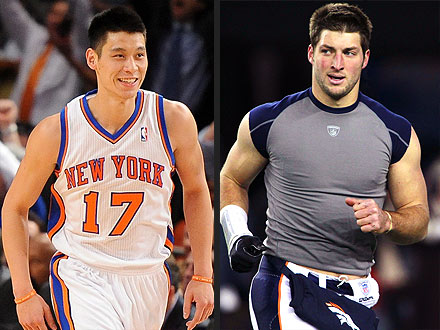 New York Knicks struggles and NBA pressures have put Lin in bad spot
There comes a time when a team and a league is asking too much of an undrafted point guard. Linsanity wasn't created by Lin the player, but his efforts to revive the New York Knicks may have finally run out of gas. Ever since the return of Carmelo Anthony, New York's starting lineup hasn't found a working chemistry. Through six-straight losses, including the latest against the injury-riddled Chicago Bulls, the playoff predictions appeared premature. Blaming Lin for the problems is both wrong and short-sighted. There was a time when his task was to simply fill in as point guard for the Knicks. Before he knew it, the money-starved NBA piled on their hopes and dreams of expanding back into the Far East market after Yao Ming retired. While Jeremy Lin the player just wanted to win games, suddenly Lin the superstar has responsibilities his non-existent draft status didn't come with. He's too young and playing for too big of a city to get labeled as a savior.
Peyton Manning rumors with Lindsey Vonn and Taylor Swift hurt Tebow
Questionable NFL skills aside, one might think Tim Tebow did enough for the Denver Broncos to gain an extra year to prove his worth. Sadly pro football is a business first and game second. With Peyton Manning and all his Hall of Fame credentials available, the Broncos made it clear: Tebow, who won them a playoff game last season, would get traded if they landed Manning in free agency. Even before Lin, Tebow became an overnight sensation, defying the odds every time he stepped on the field. Now like Lin, his popularity wanes under repeated hammer blows of better competition and absence from the win column. In Tebow's case, it may have more to do with his ongoing actions off the field. While he's done nothing wrong, his presence at sanctioned events has garnered repeated girlfriend rumors. First it was Olympic gold medalist Lindsey Vonn, then music sensation Taylor Swift. The constant attention is nothing new to him, but can grow tiresome for the Denver franchise. It would then make sense for them to pursue Manning, a player notorious for escaping controversy and rumor.
The truth is Jeremy Lin and Tim Tebow aren't boring. They bring a certain excitement to NBA basketball and NFL football that hundreds of other players can't. Yet like a favorite food or drink, they've been taken in so much that sports fans got burned out on them. Whether through bad chemistry, Peyton Manning, or Lindsey Vonn and Taylor Swift, the two young men now know that life as a pro athlete isn't all money and spotlight.