Tim Tebow attended a fundraiser where a wealthy fan paid $100,000 for the chance to hang out with him. Were the fates a bit kinder, it's fair to wonder what bid fellow sensation Jeremy Lin would have drawn if not for his knee injury.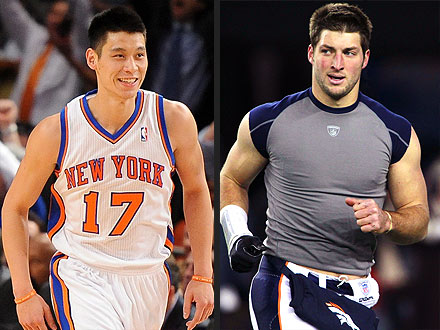 Lin distracted by rehab and New York Knicks in a NBA playoff push
Tebow and Lin have shared a link ever since the young point guard out of Harvard mimicked the quarterback from Florida by dramatically bringing the New York Knicks out of the NBA cellar and into playoff contention. Fans had hoped he might have that same magic in May against the basketball élite, just like Tebow did when he stunned the Pittsburgh Steelers. Sadly fans won't have that. Lin will stay on the injured list when the playoffs start and might not make it back from his torn meniscus until at least the second round, if the Knicks can reach that far. So Linsanity faithfuls won't have the same magic feeling as Tebowmania fans did, but that doesn't mean Jeremy Lin sits in the shadow of Tim Tebow.
Good publicity puts New York Jets and Mark Sanchez on better ground
To understand a comparison one must first learn of the Tim Tebow Foundation Celebrity Golf Classic. It's an annual golf event that features a multi-day list of activities including a gala where they took bids for the chance to hang with the newest member of the New York Jets. The winning bidder offered up $100,000 for the right to meet and hang out with Tebow while donating the money to the Tebow Foundation. While Tebow brings all sorts of publicity wherever he goes, his well-known charity work brings some good promotion to the Jets organization, still recovering from their offseason soap opera after missing the playoffs. It's also fair to wonder how Lin would have faired at a similar gala. He was in New York first and popularity polls taken say he's more popular. Add in he comes from an Asian background, a Taiwanese-American, and is the first of his ethnicity since Yao Ming to star in the NBA and it's a fair guess to think he might have earned a higher bid than Tebow.
Sports fans like to find connections between Jeremy Lin and Tim Tebow. Both brought their teams from nowhere to playoff contention. Each had many doubters in the media. They now both play in the same city, Lin with the New York Knicks and Tebow with the New York Jets. Aside from the NBA and NFL sports line, they are mirror copies of a great Cinderella story. Mark Sanchez only wishes he had their standing with fans. So who would win in a bidding contest? Maybe fans will find out next year, or at the next charity event.