If ever two men weren't looking forward to the NBA offseason, it's Lamar Odom and his former brother-in-law Kris Humphries. Both wonder what team they'll play for next season while continuing to deal with rocky personal lives.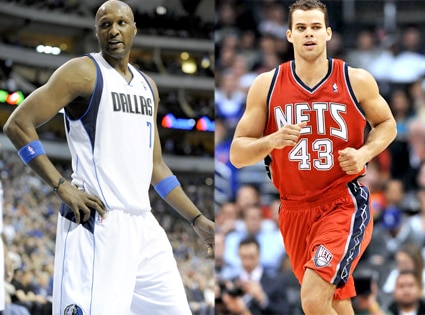 Odom dead set on switching focus from Khloe Kardashian to basketball
No man has probably endured a quicker fall from grace than Odom. A year after completing his best season as a pro, winning the NBA Sixth Man award, the big man went into a tail spin and couldn't even finish 2012 with his new team, the Dallas Mavericks. Now his basketball future is a mystery as he will turn 34 years old before next season starts and several teams might not have any interest in him after his Dallas flop. For that reason Odom announced through media channels that he and his wife Khloe Kardashian will not renew their reality TV show for a third season so he can focus on basketball. The first step for him, to the surprise of many, is trying to make the U.S. Olympic team for the 2012 London games. The expected team roster took several injury hits in the past few weeks, most notably star point guard Derrick Rose. Odom knows that if he wants a new home next season his best chance is to help the U.S. take gold. Kardashian has offered nothing but support for her husband through the process.
Humphries could enter free agency if Deron Williams leaves New Jersey Nets
A fellow player and former brother-in-law of Odom also must stare at uncertainty in the NBA offseason. Kris Humphries enjoyed the best year of his pro career, setting highs in both points and rebounds. Unless the New Jersey Nets offer a new contract before their move to Brooklyn this summer, he figures to enter free agency as a valuable young big man. The one thing that could throw a wrench into his plans is the same person who holds the fate of the team in his hands. Point guard Deron Williams said repeatedly he wants things to change with the Nets if he's going to return but silence from the front office has led him to consider testing the market. His departure could lead the Nets to think about a complete overhaul, which would include not giving Humphries a multi-year deal. That means the 26-year-old would have to find a new team with the cloud of divorce problems left by his marriage to Kim Kardashian still over him.
Lamar Odom had peace at home with Khloe Kardashian but couldn't find it on the court. Kris Humphries had it on the court but couldn't find it at home with Kim Kardashian. The NBA is a strange place, and whether it's Deron Williams and the New Jersey Nets or other issues, both men have lots to think about moving forward.