As if worrying about Adrian Peterson weren't enough, the Minnesota Vikings defense took another hit when one of their young corners retired. Faced with an already hard season, could they try for Mike Jenkins from the Dallas Cowboys?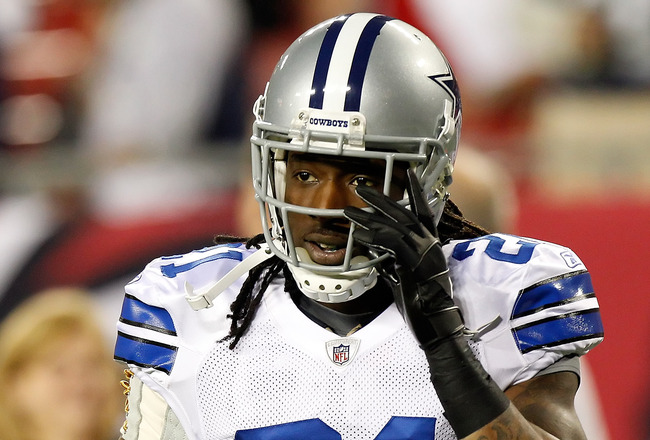 Loss of Asher Allen puts pressure on Jared Allen and Vikings defense
The year 2011 was pretty much all about if the NFL single-season sack record would get broken by All-Pro defensive end Jared Allen when it came to the Minnesota defense. Other than that it was a painful story of second half collapses and blowouts. The Vikings front office would have liked to use the draft to rebuild the unit considering it will have to play Aaron Rodgers, Matthew Stafford and Jay Cutler a joint six times in the upcoming season. Sadly losses in free agency and an injury to Adrian Peterson forced them to draft towards helping young quarterback Christian Ponder. Now things look ever grimmer when news broke that Asher Allen, the 24-year-old corner for the Minnesota Vikings decided to retire after just three seasons. It was a stunning decision that caught coaches, players and ownership off guard. Worst of all, his exit widens the gaping hole in a defensive secondary that ranked towards the bottom last year. Unless the front office can find a replacement, things aren't looking good for 2012. Luckily they may have one way to go.
Jerry Jones vows Cowboys will keep Jenkins despite crowded depth chart
Mike Jenkins wasn't the greatest corner for the Dallas Cowboys but Jerry Jones keeps acting like he's a Pro Bowl talent from the way he shoots down trade rumors. Dallas spent the entire 2012 off-season on one goal: to fill the hole in their secondary. It was a job the team failed at last year when they couldn't sign top free agent Nnamdi Asomugha. Thankfully for Cowboys fans the team worked some double magic when they landed talented corner Brandon Carr and then swung a huge draft trade for LSU stud Morris Claiborne. Those moves put Jenkins in a bind since both are likely to take over the starting jobs from the moment they enter training camp. While not the best he is very capable of starting elsewhere, which explains why trade rumors flew the moment Dallas drafted Claiborne. Jones hasn't bitten as yet but every fans knows denial goes only so far before a team could get desperate enough. Minnesota may have become that team. Losing Allen means that they might have to overpay to get help. Given the ailing Super Bowl hopes for Dallas, a team willing to fork over high draft picks for the third best corner on the roster is sweet music to the ears.
The Minnesota Vikings haven't hit the desperate mark yet even with the loss of Asher Allen. However with Jared Allen getting older and the offense still raw, they may need help somewhere and it starts with the secondary. Jerry Jones and the Dallas Cowboys don't want to trade Mike Jenkins, but any deal is possible in the NFL when the price goes high enough.