All the focus of the off-season has stayed on Matt Forte, Jay Cutler, and Brian Urlacher. While unnerving for fans, the truth is the Chicago Bears might find it a blessing because it lets coaches quietly turn some young stones into gems.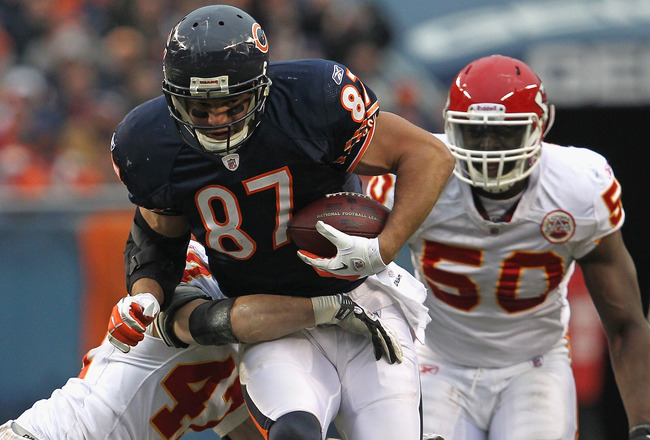 Kellen Davis could become the matchup nightmare for Jay Cutler
For months the talk has surrounded the shiny, new Bears receiving corps led by Pro Bowl talent Brandon Marshall and second-round pick Alshon Jeffery. Together with sure-handed Earl Bennett and the speedy Devin Hester, Chicago suddenly has an array of different talents that could cause problems for even the great defenses. Lost in that shuffle of speed and size is a young player who has flashed signs of both but until this season hasn't put them together. Kellen Davis could have left the Bears in free agency for the Dallas Cowboys, but instead the 6'7", 267-pound tight end came back to finish what he started. Most fans in the Midwest know Davis as a blocker who might catch a pass once or twice a game, usually for a touchdown. Of the 28 passes he caught last season, five were for scores. Now fourth-year man finally has an offensive coördinator in Mike Tice who will shape game plans around throwing him the football, something Mike Martz didn't do. Quarterback Jay Cutler said he likes throwing at big targets, which explains why the Chicago Bears front office went after Marshall in free agency and Jeffery in the draft. However, it's Davis and his rare mixture of size and speed that will stun fans in 2012.
Henry Melton and Corey Wootton could boost the pass rush
Much of the focus during camp will stay on the Bears offensive line, particularly the tackle spots with Gabe Carimi, J'Marcus Webb and Chris Williams. Even so many forget that just as much of the team success will depend on the defensive line. Two players that have high expectations from coaches are defensive tackle Henry Melton and defensive end Corey Wootton. Melton had a solid season last year, but most of it came against sub par opponents while Wootton was ready for a breakout year when a freak leg injury stunted his growth. Experts close to the Bears know that both players are young and have plenty of talent. With so much attention going to Julius Peppers and now first-round pick Shea McClellin, the real depth of the Chicago pass rush will go through two pet projects of defensive coördinator Rod Marinelli in Melton and Wootton. If they stay healthy, the Bears might field a solid pass rush to go along with their Hall of Fame linebackers and young secondary.
Stars like Jay Cutler and Julius Peppers get and deserve the attention, but it's the pleasant surprises that so often make a great season for a team. On offense, the massive tight end Kellen Davis can thrive as part of a brand new receiving corps. On defense, two young bucks in Henry Melton and Corey Wootton may give the Chicago Bears a few extra sacks than expected. If either pan out, it will only add to the promise of a good year.