Given the focus on when Derrick Rose will return many Chicago Bulls fans haven't stopped to wonder when their team might do to reshape the roster. Could they deal Carlos Boozer or Luol Deng in the coming months?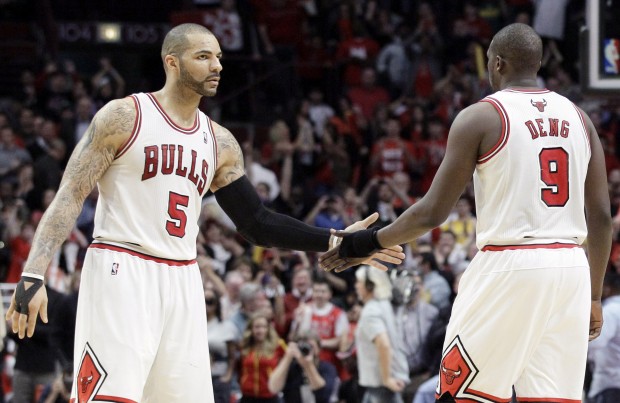 Bulls interest in Harrison Barnes might trade Deng for high NBA pick
Having only one NBA draft pick is never easy but having it at #29 in the bottom of the first round makes it even harder to find a quality player. That hasn't stopped the Bulls from dreaming big. One player experts have hinted Chicago has great interest in is North Carolina big man Harrison Barnes. While his early years with the Tar Heels met with inconsistent play, he grew into one of the top scorers in college basketball by averaging 19 points per game. Some even compared him to Oklahoma City Thunder superstar Kevin Durant. For that reason he's expected to get drafted high with a lottery pick. The thought of pairing the lanky shooter with Rose is almost too good to pass up. The problem is the Chicago Bulls sit at the bottom of the first round. That means if they want Barnes they will have to make a trade to move up the board. One player likely to get dealt is the man Barnes would replace, Luol Deng. Despite his nagging wrist injury the Bulls leader is an All-Star and an elite defender. If they could find a team interested in trading for him they could make a move up for Barnes.
Taj Gibson sees Bulls as contender with Boozer on the team
No one can fault certain Bulls players for being optimistic. Even without Derrick Rose they won a good number of games in 2012 on the strengths of their big front court of Deng, Joakim Noah and Carlos Boozer along with a deep bench led by big man Taj Gibson. While trade talks swirl around the team, mostly the not-so-quiet hopes of fans that it's Boozer who goes, Gibson said in an interview he still believes Chicago can contend for a championship if they keep playing together as a team. It's a nice thought from a player who has become a leader on the Chicago roster but the hard truth of the NBA is that superstars drive championship seasons. The Bulls hold out hope they might get free agents like Jason Kidd or Steve Nash who could bring out the best of Boozer and the other starters. Yet if fans want a trade then Boozer might not become moveable. His contract is still far too expensive and no team will take it for the average player Boozer has become the past two seasons.
Derrick Rose runs the show but the Chicago Bulls know that their championship hopes can't rest on one player anymore. With young talents like Harrison Barnes available in the NBA draft, the time may come when big names like Luol Deng and Carlos Boozer could hit the trade market if favor of young options like Taj Gibson.