Given the underwhelming looks of the Indianapolis Colts defense, even more pressure falls on a rebuilding offense with a rookie quarterback. Could the overhaul include trading for running back Matt Forte?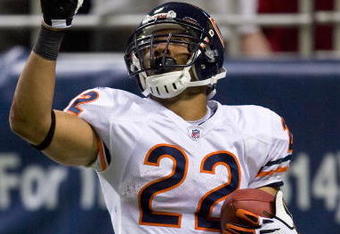 Colts offense looks unsteady with Donald Brown and Andrew Luck
Even with a brand new first overall draft pick it's hard for fans to get excited about a team that went 2-14 last year. Most of the veterans who made Indianapolis great for a decade are gone. What's left is a completely replaced coaching staff with a roster mixed with raw rookies and aging stars. At the heart of the mess is Andrew Luck. As if being the top overall pick wasn't hard enough, having to replace Peyton Manning is a whole other animal. What's worse is he still hasn't signed his NFL contract with the team and loses time every day to learn how to play pro football with head coach Chuck Pagano. That aside the Colts offense is one big question mark. Reggie Wayne is still leading the wide receivers but other than that Indianapolis has little wow factor. Among the biggest areas of worry are the running backs. Donald Brown had some success late last season but has never flashed signs he could play like a starter. Behind him are a group of young projects experts and fans have already dismissed. Do the Indianapolis Colts need another player who can help? At the right price they might find one just up the highway.
Chicago Bears can't afford to sink too much NFL money in Forte
No team has a better history at running back than the Chicago Bears. It's why their fans continue to plead for the team to give Matt Forte a long-term deal. It has nothing to do with whether the Bears want him back though. At 26-years old Forte is entering his prime and coming off his first Pro Bowl. The problem is the price. Running backs have the shortest life span of any place on a football roster. Teams that spend large chunks of money on them tend to not get a good return before injuries pile up. That might explain why Chicago won't raise their spending limit closer to what Forte wants. They fear his body won't hold up and his level of play will suffer. Then the team will sit stuck with a bloated contract. It's led Forte into a quiet holdout from camp practices though he's hinted he won't miss the regular season. The Pandora's Box is open. Chicago may keep him for another year but unless they make a bigger move soon they risk losing him in 2013. That means a higher offer or a trade. While many teams prefer loading up on receivers, running backs often work well to help younger quarterbacks. Joe Flacco is a great example. This is why Indianapolis makes sense. Luck would have a far easier time getting used to the pros if he had Forte in the backfield. In return the Bears might easily get some valuable draft picks or even a few players to fill other needs.
The Chicago Bears have made it their mission to become an NFL contender for years to come. For that to happen they need to plan ahead. That could mean short-term sacrifices like sending Matt Forte to the Indianapolis Colts. Donald Brown may not like it, but Andrew Luck sure would.