Running back continues to offer headaches for the Pittsburgh Steelers. With uncertainty around their passing attack and the New Orleans Saints rich with talent, should they try a trade for quiet producer Chris Ivory?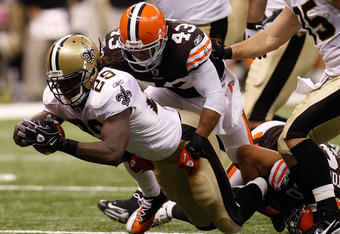 Ivory overshadowed by Drew Brees, Darren Sproles and Mark Ingram
There is always a reason a team goes 13-3 and for the New Orleans Saints it's all about the offense. From the wide receivers to the running backs and tight ends there is Pro Bowl talent. At the heart of it all is quarterback Drew Brees. The All-Pro, record-breaking passer has become the one person standing between New Orleans and a losing season after the "Bounty" scandal decimated the coaching staff and the defense. That more than most reasons could explain why Brees has not signed his long-term contract with the team. He, however thinks it's because of his role in the CBA agreement last year. Several unnamed players shot back at those comments, calling Brees a "fair-haired boy of the players union." This kind of distraction is exactly what might sink the Saints in 2012, especially how fragile the front office is. New Orleans lost a number of high draft picks because of the scandal and might have no way to replace them unless they make some deals. One player who can help is Chris Ivory. The former 2010 draft pick has played very well when given chances but with Darren Sproles and Heisman winner Mark Ingram ahead of him, finding touches is getting harder. That said some teams might have interest in trading for him.
Steelers forced to rely on Isaac Redman and Jonathan Dwyer to run
Things have gotten rough for the Pittsburgh Steelers offense over the past year. Not only is their best receiver Mike Wallace stuck in a contract holdout, but their best running back Rashard Mendenhall will start the season injured with no real idea when he will return. That means quarterback Ben Roethlisberger could throw to secondary receivers behind a suspect offensive line while handing off to back up running backs. The two names that must step up are Isaac Redman and Jonathan Dwyer. Most fans know Redman can make a play once in a while but has never proved he can carry a team on his back. As for Dwyer, Pittsburgh coaches are getting fed up with his constant weight problems. In two seasons he has only touched the ball 26 times. Unless this changes he might not make it out of 2012 in black and gold. If the Steelers can't solve the Wallace problem, they may try to help Roethlisberger through trade. Since their offensive line is about to get younger with rookies David DeCastro and Mike Adams, the best thing to do is run the ball. That's where Ivory could come in. New Orleans needs draft picks and Pittsburgh always has them to spare. At the right price the Saints could send him to a city who loves power football.
The Pittsburgh Steelers don't build their success through trades but their unique injury problems have left Isaac Redman and Jonathan Dwyer to support Ben Roethlisberger. With Darren Sprole and Mark Ingram already waiting for Drew Brees to return, the New Orleans Saints could find good value in shipping Chris Ivory north.