So much love for what a team does in the offseason to improve offense and defense too often overlooks the third phase. Few teams appreciate that phase more than the Chicago Bears and it could finally pay off for them in 2012.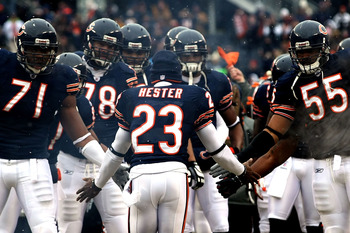 Devin Hester and Dave Toub could maximize chances for the new offense
Over the last six years Chicago has had one unit that no NFL team wanted to see on Sundays. Under wily coach Dave Toub the Bears special team has stayed the one constant piece of excellence in Windy City football. The biggest part of its success is of course return man Devin Hester who took only half a decade to break the all-time mark for return touchdowns. That reason alone was enough for Chicago to make Toub the highest paid special teams coach in the game, but it goes much further than that. Since the Bears Super Bowl season in 2006, their special teams have never placed lower than eighth and has placed first in four of six seasons. From returning to punting, kicking and coverage Chicago has given every team constant headaches. However it's the 2012 season that could make everything pay off.
Jay Cutler and Brandon Marshall will only get better with shorter fields
So much hype surrounds what the new Chicago Bears offense will do now that quarterback Jay Cutler and receiver Brandon Marshall are back together. Experts already pegged the Bears for a big year what with Matt Forte, Alshon Jeffery and Michael Bush joining in the fun. Lost in the excitement is how Toub and his boys might make the offense a points machine. With Pro Bowl return men like Hester and Eric Weems on the team, Chicago figures to rank near the best in the league at starting field position whether from good returns or opponents saving their breath and kicking the ball away from them. Any offensive mind from coaches to player will say it's way easier to score points having to go fifty yards instead of seventy or eighty. Cutler already has the respect of experts at ESPN and that was before he had weapons like Marshall. If he has that and short fields to go, stopping Chicago could become too much for defenses to handle.
Jay Cutler and Brandon Marshall deserve attention from fans. Still the real reason the Chicago Bears aren't just good but dangerous in 2012 is thanks to the steady greatness of Dave Toub, Devin Hester, and the third phase.