The band is back together for another tour but the Houston Texans know big issues face them in free agency next season. With their two leaders on offense getting older could they make a surprise push for Dwayne Bowe from the Kansas City Chiefs?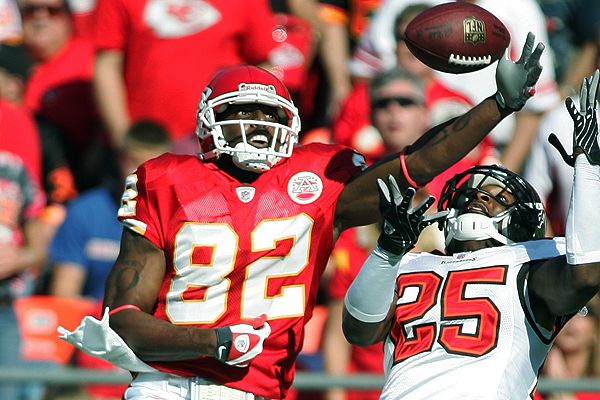 Matt Schaub and Andre Johnson are running out of time
Few teams hear the clock ticking more that the Texans do. The offensive core that made them a team to watch in quarterback Matt Schaub and receiver Andre Johnson join new faces like All-Pro running back Arian Foster to give Houston its first Super Bowl ready football team since the Oilers skipped town. The trouble is Schaub and Johnson aren't the young bucks they were when they first teamed together. Both are 31 years old and haven't stayed healthy the past few seasons. Key pieces to their offense and defense have disappeared, putting more pressure on them to not only stay healthy but play at an élite level. Some experts figure this version of the Houston Texans has another two years at most before they must give way to the new wave. While finding a quarterback is hard enough, the team may have something to work with in backup T.J. Yates. So should they focus on finding a replacement for Johnson?
Bowe may join Mike Wallace in free agency next season unless dealt first
As one of the most important roster spots on a football team receivers sometimes believe they deserve more money. Sometimes they're right and other times they're dreaming. Two of the biggest names doing just that are Pittsburgh Steelers speedster Mike Wallace and big-bodied Dwayne Bowe of the Kansas City Chiefs. While everyone has heard the Wallace story by now the quieter holdout has happened with Bowe. Most believe it's a money issue but recent reports may hint at something else. One thing wide receivers hate is changing quarterbacks. Bowe believes that one mistake from current starter Matt Cassel will get him removed for another option. After spending years forming connections with Cassel, Bowe likely doesn't want to waste more seasons breaking in a new guy. The best way to avoid that is not signing his franchise tag contract and testing free agency. While some think he wants to join the Miami Dolphins the Texans can offer much more. In addition to having warm weather most of the year Houston also has a stable coaching staff with a play-action offense Bowe would thrive in. Paired with Johnson Houston could finally have enough pieces for a Super Bowl run.
Matt Schaub and Andre Johnson hold the fate of the Houston Texans in their handed. Much like the Kansas City Chiefs though they have big questions to answer in free agency next season. Mike Wallace and Dwayne Bowe won't come cheap, but it could become money well spent.